Program Description
Accelerated MBA
The Moore School's AMBA is business-focused and career-oriented. You will spend half of the program taking foundation courses and courses in our global business core with some of the world's top business school faculty—a faculty who possess a global perspective and who are leaders in their respective fields.
From there, you'll have the opportunity to focus in an area that aligns with your individual career goals.
Program Elements
Business Foundation
Foundation courses are designed to provide a common framework for the program and all subsequent coursework. The business foundation curriculum is designed to allow some flexibility because students have different backgrounds and objectives. Foundation courses include Decision Analysis, Financial and Managerial Accounting, Global Economics, Management of Information Systems, Management of Human Capital, and Leadership. The business foundation addresses the need for business analytics as well as broad managerial and leadership skills.
Global Functional Core
These courses focus on best business practices across the disciplines of finance, marketing, and supply chain and operations management from a global perspective. Courses integrate functional and international expertise in an interactive classroom environment.
Areas of Focus
The Moore School offers a curriculum relevant to students and beneficial to their career upon graduation. Students select one area of focus to gain expertise in a particular subject. These areas of focus cover different business disciplines in an in-depth manner to give students a better understanding of current business practices. A variety of learning methods are utilized including consulting projects and creating business plans, depending on which area of focus is selected. Focus areas offered:
Global Supply Chain and Operations Management
Human Resource Management
Corporate Accounting
Entrepreneurship
Marketing Analytics
General Management
Capstone Experience
The capstone course is designed to integrate material covered throughout the program. A key purpose of this course is to hone critical thinking skills and develop a strategic perspective. It requires teamwork, communication skills and involvement in challenging projects and simulations. The capstone course provides exposure to cases addressing some of the most pressing issues facing the business world today, as well as exposure to the complexity of the business environment, the role of ethical leadership and the nature of stakeholder influence.
Admission Requirements

The application for admissions asks for general personal and contact information, academic and employment information, as well as information related to an applicant's participation in certain organizations (i.e. US Armed Forces). Although not all information is required, we encourage you to provide as much information as possible as some of the data is relevant to certain fellowship opportunities (i.e. Peace Corps Fellows).
Professional Work Experience
A candidate's work experience is thoroughly evaluated as it is often a valid predictor of not only a candidate's academic success in the program but also his or her success from a career management perspective. Therefore, it is strongly recommended that candidates have at least two or more years of full-time, post-bachelor, professional work experience. The applicant is required to include a resume as part of the online application.
Should a candidate who has fewer than two years of work experience seek enrollment, we strongly recommend that the candidate highlight leadership experience, as well as any part-time, volunteer, or other academic-related work experience (internship, co-op, etc.) in the application.
Essays
The application also asks for a statement of purpose (maximum of 500 words) that should outline why you want to earn the AMBA degree. Additionally, there are short essay questions to answer. You may also add a personal essay should you want to share additional information for the admission committee to review.
Supporting Documents
Undergraduate Performance (Transcripts)
An earned undergraduate degree from an accredited institution is required to be considered for admission to the AMBA program. A degree in business is not required. Applicants from any major are encouraged to apply as we value diversity within our cohorts.
Transcripts from all institutions attended must be submitted to the Darla Moore School of Business as part of the admissions process. These documents must be sent to the Moore School's Graduate Division in a sealed envelope from the respective institution. The Moore School has access to transcripts of USC graduates; no further action is required if the University of South Carolina was the last school you attended.
The average undergraduate GPA range for a graduate of a U.S. institution is from 3.0 to 4.0.
Graduate Admission Test (GMAT or GRE)
Applicants must provide a valid (five years or fewer) Admissions test. The applicant may provide either of the following options:
Graduate Management Admissions Test (GMAT): The GMAT is composed of verbal, quantitative, written and analytical sections. The expected GMAT average for the AMBA program is 630-650 (maximum score possible is 800).

GRE General Test (GRE): The GRE is composed of verbal, quantitative and analytical sections. The expected GRE average for the AMBA program is 310 to 315 (maximum score possible is 340) for tests taken after August 1, 2011, and between 1300 and 1330 (maximum score possible is 1600) for tests taken before August 1, 2011.
Letters of Recommendation (2 required)
Letters of recommendation are required for the admissions review. It is acceptable to have either professional or academic letters of recommendation; however, we encourage candidates to submit recent professional letters of reference where possible.
We encourage recommenders to submit their letters through the online application system. The applicant is able to send an electronic request to the designated recommender. The recommender is then able to complete the review within the online system or upload a saved document.
English Proficiency Test (TOEFL or IELTS)
International applicants who do not hold a degree from a U.S. institution must also submit a valid (two years old or fewer) test score demonstrating their command of the English language. The applicant may provide either of the following test options:
Test of English as a Foreign Language (TOEFL): The TOEFL Is composed of listening, reading, speaking and writing sections. The minimum score is 95 in the iBT (Internet-based test) format.

International English Language Testing System (IELTS): The IELTS Is composed of listening, reading, speaking and writing sections. The minimum score is 7.0 in the academic format.
Last updated Dec 2017
About the School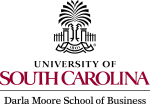 Since its founding in 1919 as the School of Commerce, the Darla Moore School of Business has grown into a thriving center of academic excellence, with an enrollment of nearly 4,000 undergraduate stude ... Read More
Since its founding in 1919 as the School of Commerce, the Darla Moore School of Business has grown into a thriving center of academic excellence, with an enrollment of nearly 4,000 undergraduate students and over 800 graduate students.
Read less